FAQ
Taiwan Investment Immigration FAQ for Hong Kong/Macau Residents
Under Taiwan law, qualifying "Hong Kong/Macau Residents" are able to obtain a Taiwan passport and ID Card without having to renounce their Hong Kong/Macau status by investing at least NTD 6 million in a Taiwan company and meeting a residence requirement.
---
Does Taiwan Allow Hong Kong/Macau Persons to Immigrate to Taiwan?
Yes, different options are available depending on which immigration category applies. Determining your immigration category is an important first step to avoid confusion and wasted time.
Click here to read about different immigration categories to determine which immigration category applies.
---
What are the Eligibility Requirements for The Investment Immigration Program?
In order to be eligible for this program, you must:
Qualify as a "Hong Kong/Macau Resident" as defined in the "Hong Kong and Macau residents entering Taiwan and residence permit system" (香港澳門居民進入臺灣地區及居留定居許可辦法)
Invest at least NTD6 million into a company in Taiwan
Meet the residency requirement. Either:
Reside in Taiwan for one (1) year without leaving more than thirty (30) days during that period
OR
Reside in Taiwan over two-hundred seventy (270) days for each of two (2) consecutive years
Secure a letter from an employed Taiwan citizen willing to act as your guarantor while you reside in Taiwan to meet the residence requirement.
---
Who Qualifies as a "Hong Kong/Macau Resident"?
Individuals that meet either of the definitions below qualify as Hong Kong/Macau residents and are able to apply for this investment immigration program:
"Hong Kong Residents" (香港居民) refers to individuals who have permanent right of abode in Hong Kong and who do not hold a travel document other than a British National (Overseas) passport or a Hong Kong passport.
"Macau Residents" (澳門居民) refers to individuals who have the right of permanent residence in Macau and hold no travel documents other than a Macau passport or a Portuguese passport obtained before the end of Portuguese rule.
The investment immigration program is NOT available to Hong Kong or Macau residents who either (i) have a valid household registration in mainland China, or (ii) hold a passport other than the ones listed above. If you hold any other passports (e.g. mainland China, U.S., Canada, New Zealand, Australia or anything else), this program is not available to you.
---
What are the Benefits of This Program?
This investment immigration program compares favorably to other jurisdictions for the following reasons:
No requirement to renounce Hong Kong/Macau status
Relatively low capital requirement (NTD6 million/~USD200,000 invested into a Taiwan company)
Simple investment requirement (no job creation requirement, no industry restrictions, no geographic restrictions)
Geographic Proximity to Hong Kong/Macau. This program allows applicants to relocate while retaining the ability to visit home conveniently.
Cultural and Language Affinity. Taiwan is already a popular tourist destination for Hong Kong/Macao travelers because of its food, the warmth of its people, and the use of traditional Chinese characters.
Taiwan is a wonderful place to nurture a family since it offers:

A relaxed and convenient living environment.
A lower cost of living.
A diverse and tolerant society.
An excellent and cost effective healthcare system.
An excellent educational system.
A safe environment, where crime is among the lowest levels in the world.
A representative participatory form of government.
For all practical purposes, successful applicants enjoy the same benefits and obligations as all Taiwan born nationals, including:
Irrevocable Permanent Residence in Taiwan and conversion to full citizenship.
Taiwan Passport.
Taiwan ID Card.
Household Registration.
Access to Taiwan National Health Insurance System.
Right to vote in open and democratically-contested local and presidential elections.
Equal access to education at all levels.
---
What Are My Investment Options?
You can either:
Invest in a company pre-screened by Pamir and offering a structured exit, which has prepared an online data room for due diligence purposes, and which is experienced in producing the documents investors will need for their immigration filings.
Invest in an existing company you have identified yourself
Form a new company and operate your own business.
Each option above has its own pros and cons, and the scope of work and costs vary depending on the option selected.
Please contact us for more information regarding each particular option.
---
Can I invest in a Company That Buys and Rents Real Estate?
Companies that only have passive income from real estate investments do not qualify as a valid investment for this program.
---
Can I invest in Publicly Traded Companies?
Investments in publicly traded companies do not qualify as valid investments for this program.
---
Is it Easy to Find an Investment Target?
Finding a suitable company to make your investment is often the most difficult part of the process. It can be quite difficult to find a profitable and stable company in Taiwan willing to take an investment of NTD6 million because there is not a developed ecosystem of business brokers handling deals of this size.
Small companies that need such an amount are not always profitable, and most of the time they lack the ability to comply with the corporate governance requirements that come with dealing with an external investor.
Larger companies are often unwilling to go through the required due diligence process for a relatively small amount.
Some applicants choose to establish their own business, often retail outlets, restaurants, bars or coffee shops. In practice there is considerable risk involved with this approach since it is extremely time consuming, and the failure rate for these types of businesses is extremely high given the required overhead.
In order to solve this problem, we have partnered with several companies that have agreed to take Hong Kong investors under standardized terms.
While these companies may operate in different industries, they share the following characteristics:
Professional management team in place
Electronic due diligence data room available
Negotiated exit mechanisms
---
How Do The Costs Of This Program Compare to Other Options?
Most investment immigration programs require either non-refundable investments in government approved projects, or outright gift payments into government funds. In Taiwan, the investment required (if structured correctly) can potentially be recovered for the most part.
Given the different cost structures of different programs, the best way to analyze different options is to compare Total Initial Investment, the total amount in USD that the family has to invest "out of pocket" in order to achieve the goal of obtaining residence or citizenship overseas ("TII").
PROGRAM
BENEFIT
TII (ESTIMATED – USD)
Australia
Residence
$3,650,000
UK Tier 1 (Investor)
Residence
$2,950,000
Cyprus
Citizenship
$2,850,000
Malta
Citizenship
$1,350,000
Bulgaria
Citizenship
$1,150,000
US/EB-5
Residence
$1,800,000
St. Kitts & Nevis
(Real Estate Investment)
Citizenship
$600,000
Portugal
Residence
$566,000
Spain
Residence
$545,000
Antigua & Barbuda
(Real Estate Investment)
Citizenship
$500,000
Grenada
(Real Estate Investment)
Citizenship
$450,000
St. Kitts & Nevis
(Gift to Government)
Citizenship
$322,000
Grenada
(Gift to Government)
Citizenship
$265,000
Antigua & Barbuda
(Gift to the Government)
Citizenship
$150,000
Regardless of which investment option is selected, in most cases, the total cost of the Taiwan program is lower than most options available.
---
What is Included in your Service?
We provide end-to-end assistance with every aspect of the application process, including: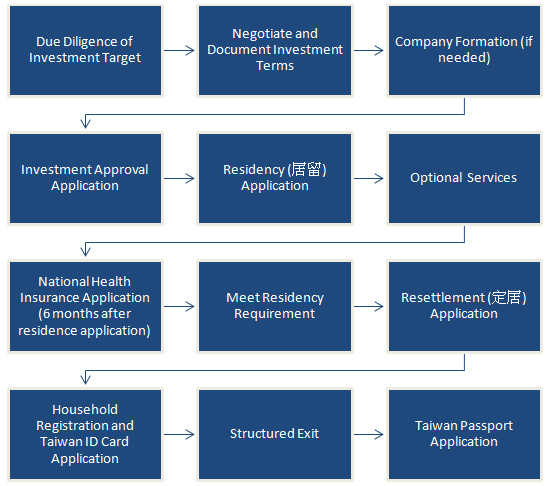 ---
What Other Optional Services Are Available?
We offer a wide range of additional services either during or after your application process, including:
Full range of business and legal consultancy services, if needed.
Relocation Support. We can provide introductions to real estate brokers, moving companies, pet relocation consultants, tradesmen, interior designers, cleaning services and any other service provider you might need to ease your move to your new home.
Tax and Accounting Support, We can provide introductions to experts and professionals to support, either personal or corporate, to meet business or individual needs
Concierge Services. We will support clients to meet consultants and experts as needed to learn about schools, buxibans, various community support services and networks, as needed.
---
Who can be a Guarantor? What are the Risks for the Guarantor?
Any adult Taiwan citizen having a residence registered in Taiwan and currently employed can act as guarantor.
The guarantor is required to sign a document stating the following:
Confirm the identity of the applicant
Confirm that they have a real relationship with the applicant
Assume responsibility to cover the applicant's living expenses in Taiwan, if necessary
Commit to assist authorities to locate the applicant in a potential deportation process, and to cover any associated expenses.
If the guarantor becomes unable to fulfill their obligations, a replacement guarantor should be appointed within one month, otherwise the residence permit could be cancelled.
The guarantee starts when the applicant applies for Residence (居留) and it expires after the applicant obtains their Taiwan ID/Household Registration.
Only individuals can act as guarantors, therefore Pamir is not able to act as a guarantor. If you do not have a friend in Taiwan that can act as guarantor, contact us to explore ways in which this requirement can be met.
---
Can I Work in Taiwan While I Meet the Residence Requirement?
You are allowed to work either for the invested company or for a different company while meeting the residence requirement, provided that your employer applies for a work permit in your behalf. However you are not required to work at the invested company.
If needed, we can assist with the work permit application process.
---
Can I Bring My Spouse and Children With Me?
The main applicant's spouse and children under 20 years old are entitled to receive the exact same benefits as the main applicant, as long as they also meet the residence requirement.
However, in certain cases where this is not desired, a spouse or child can decline to obtain a Taiwan ID and apply for an Alien Resident Certificate ("ARC") instead and reside in Taiwan with "foreigner" status.
---
Can my Children Attend Local Schools?
Your children will be allowed to attend local schools after you obtain their residence certificates.
---
Can I Bring My Parents With Me?
Unfortunately, parents of the applicant are not included in this investment immigration program. If your objective is to permanently relocate your parents as well, they will have to make their own investment and apply separately.
---
Can I Bring My Pets With Me?
Yes, however the process can be complicated and requires the animals to be quarantined. If you wish to bring your pets to Taiwan, we can introduce you to a consultant that specializes in this kind of application.
---
Will I Be Subject to Military Service?
All male Taiwan ID holders between the ages of 18 and 36 are required to undergo either one year of full military service, or four months of mandatory military training, depending on their year of birth. Thus any male applicant or dependants in this age range who obtain a Taiwan ID through this program should allocate time to report for duty and finish service/training as soon as possible after obtaining their Taiwan ID.
In cases where an entire family wishes to relocate to Taiwan, it is possible for the mother to be the main applicant and obtain her Taiwan ID. This would allow the husband and/or any male children to reside in Taiwan with an Alien Resident Certificate ("ARC") instead. Thus they would not be subject to the military service requirement.
---
How Long Will it Take to Obtain My Taiwan ID?
The entire process can take anywhere from 18 to 28 months. There are many variables that affect the timing of every step, therefore it is difficult to offer a precise timeline.
The table below provides an indication of the timing of most steps.
| | |
| --- | --- |
| Step | Timing |
| Identify Investment Target | Depends on your preferences and market conditions. Working with a company pre-screened by Pamir is the fastest option |
| Negotiate and Document Investment Terms | Depends on both parties. Companies pre-screened by Pamir have agreed in advance to standard deal terms, which compresses the timeline |
| Company Formation (If Establishing Own Business. Includes Investment Approval) | 2-3 months |
| Investment Approval Application (Not Necessary if Establishing Own Business) | 2-4 weeks |
| Residency (居留) Application | 1-2 weeks |
| National Health Insurance Application | 2-3 weeks |
| Meet Residency Requirement | 1 or 2 years depending on how much time you are able to spend in Taiwan each year |
| Resettlement (定居) Application | 2-3 weeks |
| Household Registration and Taiwan ID Card Application | 1 day |
| Taiwan Passport Application | 1-2 weeks |
---
What are your Fees?
Fees will vary based on the scope of work needed.  Please contact us for more details about our fees.